We are just one week away from the Kilburn Mill Career Fair! Here is a sneak peak at some of the extraordinary local businesses that have already joined forces to be part of this event and some of their open positions.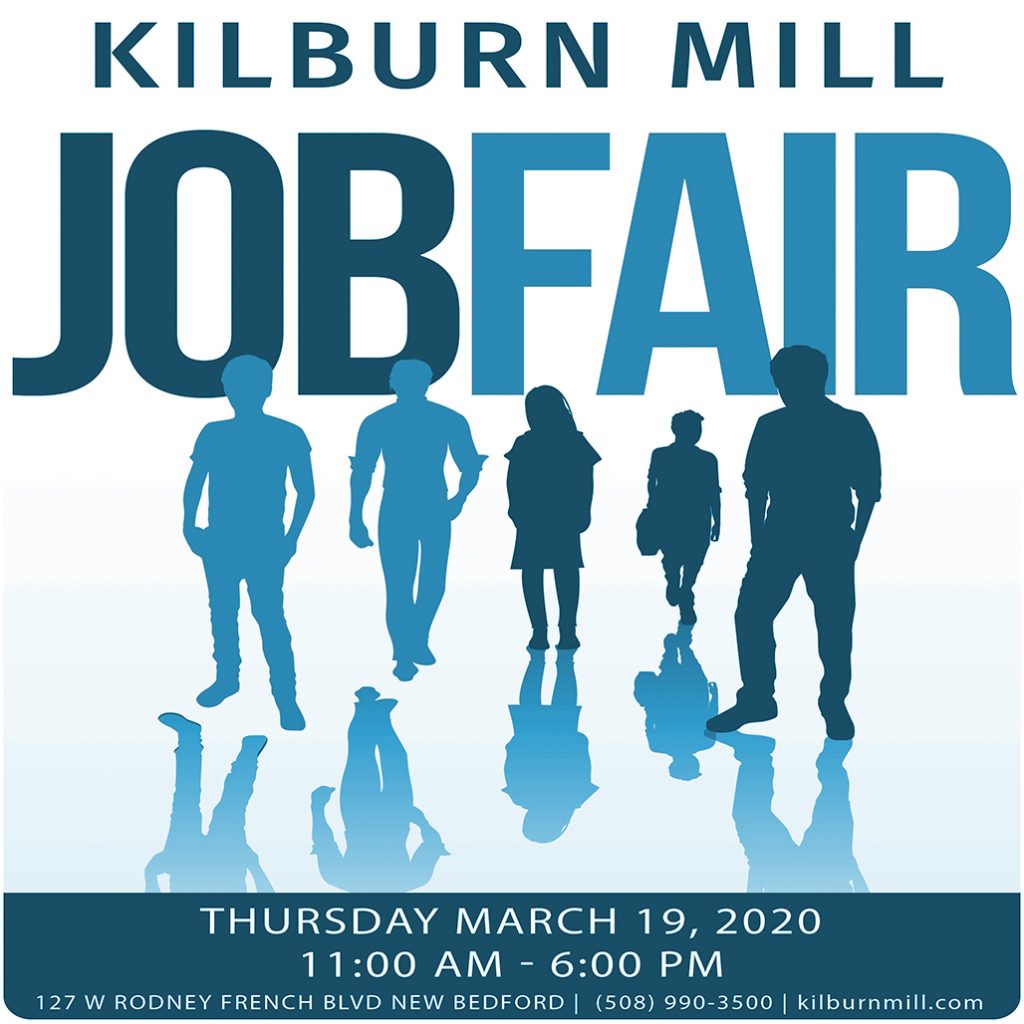 Dunkin Donuts in Fairhaven is seeking Crew Members and Supervisors.
The Kittansett Club, one of the premier golf clubs in the United States, is looking to hire Groundskeepers, Food+Beverage, Cooks, Dishwashers, Bussers
The Cottages at Dartmouth Village offers senior living services – assisted living and memory care – in North Dartmouth, MA and they are seeking CNAs, LPNs and RNs.
Spherion Staffing Agency in North Dartmouth is seeking resumes of all types for temporary and permanent positions across the South Coast in a variety of industires.
First Citizens Federal Credit Union is seeking Mortgage Underwriters, Post-Closing Analysts and Banking Associates (various locations across the South Coast)
New York Life, the third-largest life insurance company in the United States, is looking to hire Financial Advisors.
Blount Fine Foods, Fall River's World Famous seafood and soup manufacturer needs Machine Operators, Production Supervisors, Pack Out Clerks, Food Prep Clerks, Warehouse, and Material Handlers.
Gold Medal Bakery in Fall River is searching for Production Trainees, Wrapping Trainees, Part-time Janitors, Shipping Clerks and they also have Summer jobs for students in their production, wrapping, and shipping departments
BASK Premium Cannabis Dispensary in Fairhaven is seeking Harvest Technicians, Greenhouse Technicians, Inventory Technicians, Custodians, Retail Staff and a Kitchen Manager
Pavestone is looking to hire Forklift Operators, Laborers, Machine Operators, Production Supervisors, Maintenance Technicians, Maintenance Electricians, and Class A CDL Drivers.
The Kilburn Mill is excited to bring a variety of businesses under one roof and we look forward to helping local company's connect with the city's talented residences. Our mission is to connect job seekers to roles that best fit their skillset and background, increasing the opportunity of an offer, while simultaneously helping employers meet their hiring needs. We also are excited to be partnered with MassHire of Greater New Bedford to bring you this momentous event!
If you are a business owner or representative interested in joining, please contact brieanna@kilburnmill.com, or call (508) 287-0914.
If you are a job seeker looking for new opportunities, please submit your resume to the link below, and be sure to join us on March 19th!
https://www.indeed.com/job/kilburn-mill-job-fair-3c3761715f2ffe5e

https://www.glassdoor.com/job-listing/multiple-positions-available-kilburn-mill-job-fair-JV_IC1154781_KO0,28_KE29,50.htm?jl=3489509143&sbPid=1066573